Young people in the Valle de Sibundoy, Colombia, are campaigning against a road to Brazil that cuts through their territory, including an ancient pathway used by their ancestors.
"Our worry as indigenous people is that this project was not agreed with the people. There was no prior consultation, they don't have our permission. This is our ancestral territory and they are bringing disequilibrium," said Carlos Jamioy, of the Camentsa people of the Valle de Sibundoy, Putumayo.
The valley in southern Colombia is home to two closely allied indigenous groups, the Inga and Camentsa, and in addition to being their traditional territory was granted to them in an old colonial title no longer recognized by the government. Now the Colombian government is building a road through their territory, from San Francisco to Mocoa, as part of a transport route to Brazil.
"They are making the road in a place where our ancestors walked, in a sacred path. It was a path we used to exchange goods with other peoples. We would share thought, identity, work, education," said Carlos.
Carlos Jamioy is part of a group of young people in an organization called Colectivo de Trabajo Territorio Tamoabioy. The group is involved in bilingual education, teaching traditional crafts, and other cultural activities to help maintain the traditional culture of the indigenous people in the face of numerous modern challenges.
"The threats to our territory are firstly mining – there are companies in the exploration phase at the moment. Secondly, the megaproject of the road from San Francisco to Mocoa.  This brings a disequilibrium, cultural, economic, political, educational. It brings the loss of identity among the Inga-Kamentsa people here in the Valle de Sibundoy. A different culture comes that we are not able to resist and we are going to lose our own thought, the spirit of our thought and our link to Madre Tierra."
Some indigenous campaigners in the valley have begun to try to assert their right to be consulted. However, they say that when they wrote to the government about it, they received a reply that their community did not exist, perhaps a reference to their not holding a communal title in the relevant land.
Pablo Tisioy, another member of the group, says that the potential problems of the new road to Brazil affects everyone.
"Colombia tries to hide what happens here. When people don't know the natural riches of the Valle de Sibundoy they don't care about it. So we are trying to explain the problems happening here to other people and trying to prevent the environmental massacre the multinationals would bring. They are trying to exploit the Amazon and this is a global problem, not just regional."
Jamioy agrees. "They are building the road over sources of water, where there are springs, where the rivers are born. They are breaking up virgin mountain, causing erosion and other environmental problems. They are extracting material to make the road too. They also haven't asked for permission for this, they don't have the consent of the people. We care for and protect our rivers"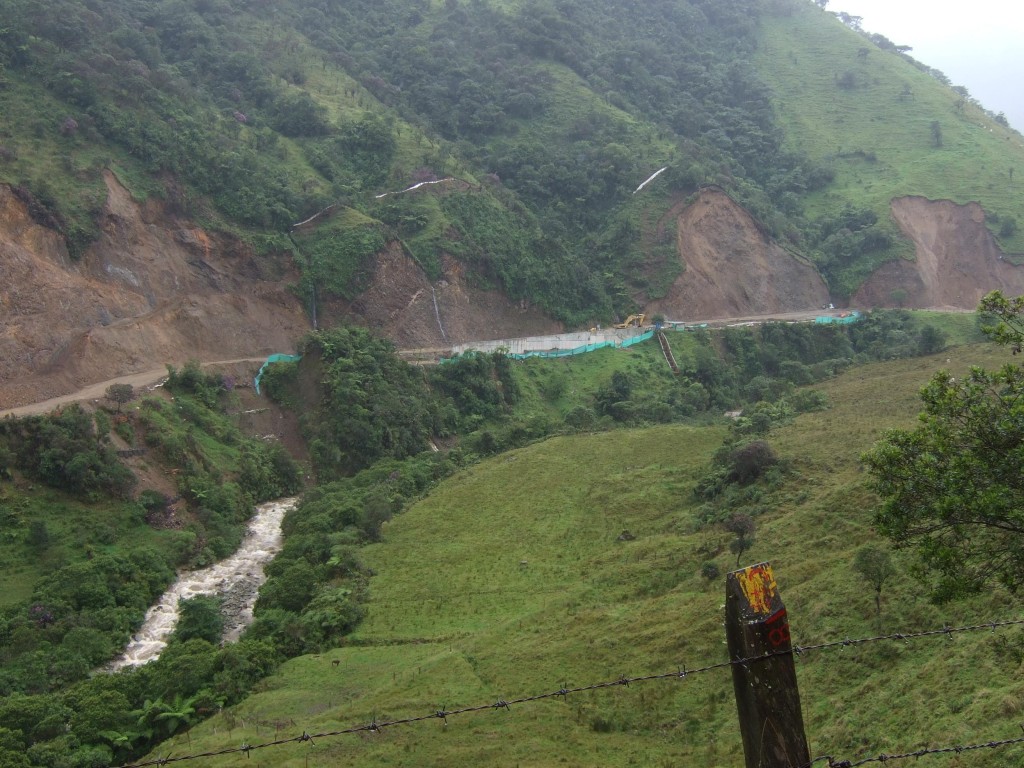 Jamioy says the Putumayo River is already flooding more easily since the works began and they are concerned that this is just the beginning. "We say no to mining, not exploration, nothing," said Jamioy. "We think the road is to help with the extraction of natural resources."
Their territory also has mining concessions on it, including some held by multinationals AngloGold Ashanti and AngloAmerican. They fear the mining will bring not only environmental destruction but social disruption and even violence.
"We know that militarisation has happened in other areas when mining arrives. People aren't allowed into the areas of exploration and exploitation. So this is one of the problems that could happen here, and we could see, for example, forced disappearances," said Jamioy.
The mining has galvanized some of the community into action says Tisioy. "For the last four or five years we have been confronting the problem of mining here. We have mobilized and are searching for alternatives to this type of development."
But confronting big mining companies is not easy. "Some indigenous leaders sell themselves, they sign to allow multinationals to work here. But there are also leaders who support the mobilisations. But we have a problem that our governors change every year, so one will oppose mining and the next won't follow him.[…] The multinationals also arrive with armed groups and force people to sign papers."
"We invite everyone, the whole planet, to see that it is not just us affected," says Carlos Jamioy. "It is also in the city. The whole planet is being put out of equilibrium. The mission that we all have as a planet is to care for Madre Tierra. The multinationals looking for natural resources are destroying it.
"Our invitation is that everyone, all organizations, including capitalist countries, hold the Madre Tierra in their hearts."
The Colectivo de Trabajo Territorio Tamoabioy (see their blog) are looking for people to help them in their campaigns, both with resources and publicity.