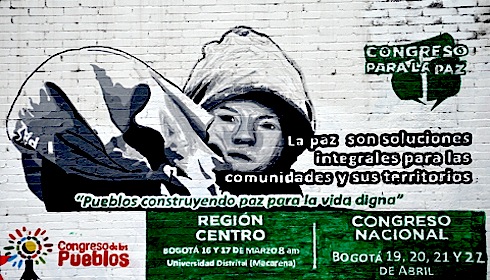 Colombian social organisations are organising a Congress to bring together 15,000 people in Bogota in April to add another voice to the peace talks taking place between the government and left wing FARC guerrillas.
"We think that peace is important and we want to talk about it on a local level. We don't think peace should just be discussed between the guerrillas and the government," said Fernanda Espinosa, an organiser with Congreso de los Pueblos, the network of groups organising the event.
Fernanda Espinosa was interviewed at the Bogotá Regional Congress on 16 March, one of many regional congresses taking place around the country as feeders to the main event: a grand National Congress in Bogotá on 19 to 22 April that will try to make its voice heard in the peace process.
The campaigning organisations involved include students, farmers, workers, indigenous groups, displaced people and women's organisations.
"Everyone is invited to the congress," said Espinosa. "We think everyone has something to say about peace. Because all day every day you have to build peace."
Topics at the Bogotá Regional Congress included sovereignty over natural resources, dispossession and land reform, human rights and the militarization of society. A political statement resulting from the weekend asked the government for a bilateral ceasefire – offered by the FARC but so far refused by the government – and to include other guerrilla groups in the peace negotiations. It also demanded political reforms to make the Colombian state more democratic and accountable.
The conclusions, or 'mandates', of the national congress in April will be addressed to the government and the guerrillas, and though the Congress for Peace has no formal position at the negotiating table they are looking for a way to send their conclusions to the peace talks in Havana.
Members of the Congress also want discuss their conclusions with business leaders. "They are involved in the conflict too," said Espinosa, "They are financing the conflict."
"But it is also important that people go back from the Congress and talk with other people," she went on. "We want all of society to discuss this [to] continue the process of building peace. So the Congress will just be the beginning."
The Congress for Peace will also try to bring their ideas to a forum with other organisations, including the Marcha Patriotica, another network of social organisations with its own process for peace proposals called "Constituents for Peace".
Talking about peace in Colombia is not without its risks and the Congress would like to see international participants coming forward for the Congress in April.
"We believe the involvement of the international community in this process is very important because there have been a lot of killings and human rights violations of those who talk about peace," said Espinosa. "People in local communities have been persecuted for talking about peace, and we know that normally during peace negotiations the humanitarian crisis can increase.
But for those involved in the Congress all the risks, and the battles against a government that does not want to hear them, are worth it, because they believe the conflict is rooted in inequality and abuses of power, and that social justice is a necessary part of the peace. As the call-out for the conference puts it:
"For this purpose we have called the Congress for Peace, to create a holistic peace proposal to overcome, by way of political mobilization and arguments, the essential problems that led to the conflict, and to propose ways of organizing and [living with] dignity for our people."