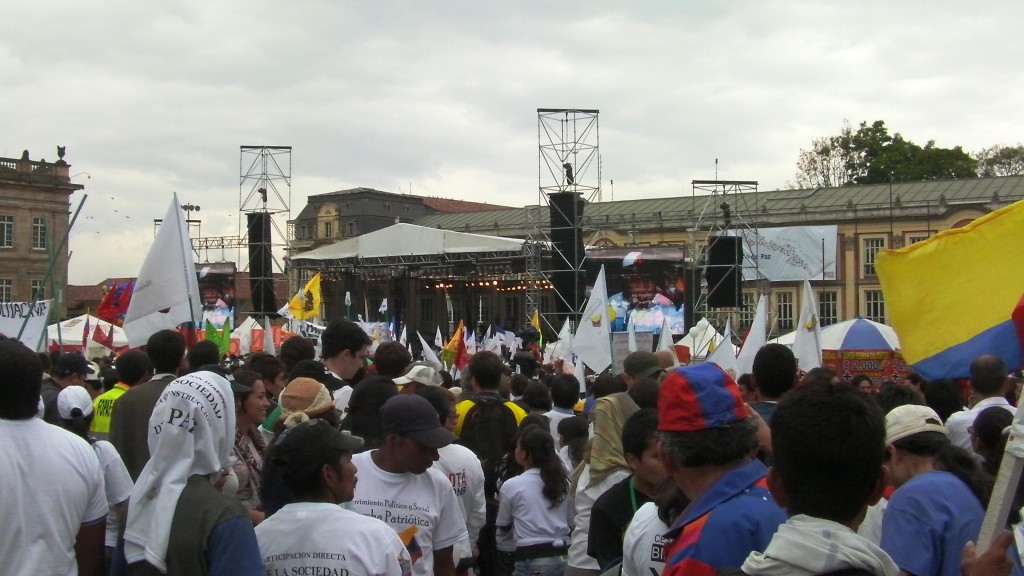 On April 9 people and organisations travelled from all over the country to Bogota to join a march of hundreds of thousands that ended in the Plaza Bolivar. The march was originally organised by Marcha Patriotica and gained the backing of the mayor of Bogota and President Santos himself.
Carlos Eduardo, an indigenous campaigner who came from Caldas for the day said, "We are here to show our support peace. It is important for indigenous communities, for the victims of the conflict, the displaced people, those dispossessed of their territory. We are here so that our voice can be heard. It shouldn't be just the government and guerrillas who decide about the future of Colombia."
The rally in the plaza included speeches from Gustavo Petro, Mayor of Bogota, William Ospina, a well-known Colombian author, and Piedad Cordoba.
Piedad Cordoba, figurehead of the Marcha Patriotica, was introduced optimistically as 'The next president of Colombia.' "Peace is a word. But in reality it is a world of respect, it is a world of generosity, and opportunities for everyone," she told the crowd.
The presence of President Santos himself at the beginning of the march had caused controversy among organising groups as he is associated with the crimes of the state both during the years of his predecessor Uribe and at present. However the Marcha Patriotica welcomed his presence as a sign he is serious about making peace.
For Erica Avello, from Bogota, the president's endorsement of the march was welcome. "It's an important day because we are supporting a president facing a difficult peace process – because Colombia historically has always had conflict. I am very happy to be here because the grassroots organisations and institutional groups are here, everyone has answered the call."
A recurring desire among people on the march was to see justice for crimes committed during the conflict and a state that respects people's rights. Victor Silva from Bogota said, "It's time to end the war, it's time to make peace. It's time for social, economic and political reforms. It's time to create the peace with social justice."
Like many people on the march he was also optimistic about the peace process producing a lasting peace in Colombia. "I think there are objective conditions that will allow the peace process to go well," he said. "The possibility of peace is here."